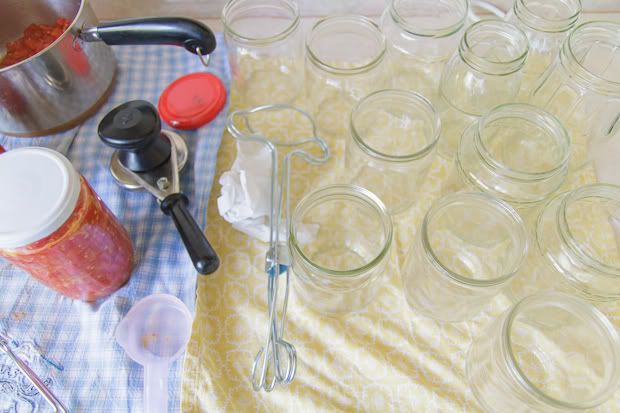 'Tis the season to be canning here in Ukraine. Canning supplies are in stores everywhere and markets are full of local fruits and vegetables. Now is the time do your canning if you are a good little hazaika, which is what they call a hostess or housewife here.
Olivia asked Denyce and me if we wanted to can tomatoes together this year. Last year was my first time canning and simply thinking back on the experience made me tired. From what I understand, canning here in Ukraine is a bit different than canning in the States, and that difference seemed to extend the process quite a bit. Simply put, we didn't exactly know what we were doing last year. But since we had a little more experience under our belts this year, I said yes with a bit more confidence.
We met around 9 a.m. and drove to the market near my apartment. We needed tomatoes, jars, lemons, and a new "canning key", since Olivia couldn't find hers. A canning key is a device which fits over the lid of your jar and has a handle that you crank around in order to clamp the lid on. It's like a can opener only it works in reverse.
I have a woman who I buy most of my vegetables from at my market. Her name is Shura. When she saw me with my two buckets she knew this was no ordinary trip to the market. I explained to her we were going to be canning tomatoes and she assured me she had the best tomatoes for me to use. In fact, her daughter, who usually sells produce next to her, was at home that very moment canning those very tomatoes. Her tomatoes were a little more expensive than others I had seen, and they weren't the Roma tomatoes that Olivia was looking for, but I really just can't say no to my Shura. She is always so kind and helpful to me, so I went ahead and bought ten kilograms from her to add to the 15 kilos Olivia and Denyce bought on another aisle. For those of you who don't know your kilograms, that's a total of about 55 pounds of tomatoes. I must mention that I was rebuked for not telling Shura earlier we would be canning because she could have gotten me a good deal on jars if she would have known. Oh well. Next year I'll have to take her up on it.
We hauled all of our supplies upstairs and the fun began. Pots were filled with water, the burners were lit on the stove, jars and lids began to be washed, and the temperature in the kitchen began to rise. At 10:00 a.m. it was already 91 degrees outside, and rose all the way to 98.6 in the afternoon, so you can imagine how toasty it was in our kitchen. While one of us got the jars ready, the others were preparing the tomatoes. You can't buy diced tomatoes here, and in the winter there isn't a lot of good produce available. And when you're making chili or spaghetti, you really need some diced tomatoes. So we diced tomato after tomato until our pot was full and it was time to simmer them on the stove for a bit.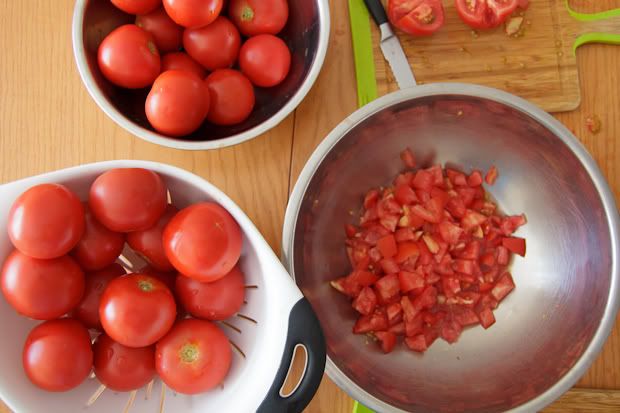 Once our tomatoes were ready to go into the sanitized jars, the tricky part began. Last year our biggest hiccup was using Olivia's canning key. This year we were using a new one we were unfamiliar with and as we attempted to seal our first jar, there was an instant moment of deja vu. We couldn't figure out this little device and you can see from the photo that Olivia and I were serious about making this thing work.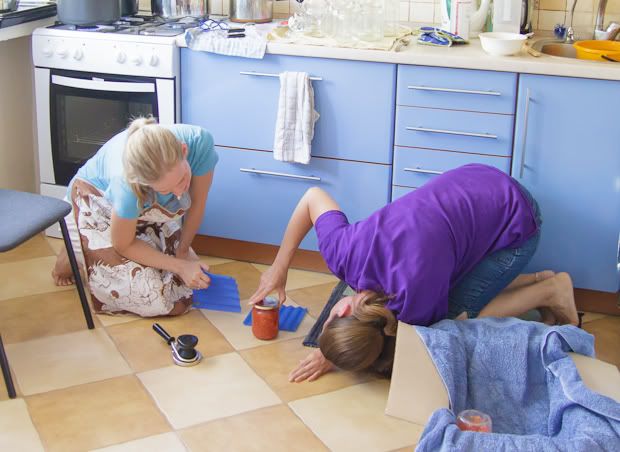 After several minutes of each of us trying, we decided the best thing to do would be to enlist the help of a more experienced canner. I grabbed the key and ran upstairs to see if my neighbor Nadia could help us figure it out. Igor, her son, answered the door and said, "Hi Katie, so you are canning today, huh?" "Yes, but we can't seem to get this thing to work! Is your mom here? Would she be able to help us?" They looked at our key and basically said we bought a dud. Nadia grabbed hers and happily came downstairs to show us how to use it. What a blessing it is to know our neighbors and to have such nice ones at that!
At about one o'clock we took a lunch break and then said goodbye to Denyce who had to head home. Olivia had to leave at three herself, and so when we realized we had a lot more tomatoes still to go, she suggested she could come back tomorrow to help me finish the job. I was more inclined to press on and get it all done in one day rather than heating up my kitchen two days in a row, so I volunteered to finish it up on my own, thinking I might be working another hour and a half, max.
It turns out that the process slows down quite a bit when you're alone on the job! Three and a half hours later I sent a girls a text message. "Nine hours and 41 jars later and we are done! Now to just finish the cleanup."
It was a long and hot process, but we certainly felt accomplished by the end of the day. In fact, we were so pumped about the tomatoes that we began making plans for canning salsa next week. When I returned the canning key to Nadia and thanked her for her help she told me, "Good job, Katie. You are a good hazaika. You can come and borrow it any time" Words like that from Ukrainian grandmothers give me great joy and give me another reason to embark on this task again next year.