This Saturday I (Katie) was able to host a Let's Start Talking follow-up event at our apartment. We invited women that we had met through our LST campaign along with ladies from the church to join us for a baking class in English. Although several had to cancel at the last minute (and others wanted to come but were out of town), we still had a good-sized turn out—eleven in all.
People began arriving at 10am, and we sat around visiting for about 30 minutes to allow for the rest to arrive. I had decided to teach the ladies how to make lemon chocolate-chip scones because I am always getting compliments on that recipe (which you can find here), and thankfully it is a recipe that we can easily find all of the ingredients for here in Ukraine.
I printed out the recipe for all of the ladies, handed out clipboards and pens, and we headed to the kitchen for our demonstration. We took turns reading and following the steps of the recipe, and at the same time answered questions about unfamiliar English words like "buttermilk," "coarse," and "wedge." The demonstration went well and lasted about 40 minutes. It's a pretty simple recipe, but at one point one of our friends said, "Brownies are definitely easier!" I couldn't argue with that!
Once the scones were in the oven we served coffee and waited for our finished product. There was a lot of good visiting, and we of course enjoyed the fruit of our labor. Brandon returned home just in time to enjoy it too! Here is a picture he took of us before sampling our work.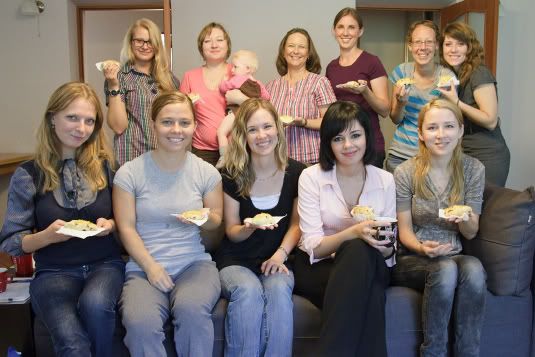 Our plan is to have a baking class every first Saturday of the month. The ladies seem excited to take part in it, and I'm excited too. I love to bake and I'm thrilled to use that interest as a way to get to know the women here, and to get them connected with each other. And I love that ministry and outreach can be done in so many different ways. What are you good at? How can you involve others in that? Take a look at the gifts and interests that God has given you and see how you can use them to expand His Kingdom.